MPEG4 H.264 5.0 Megapixel Network IP Camera
DIS-9301IP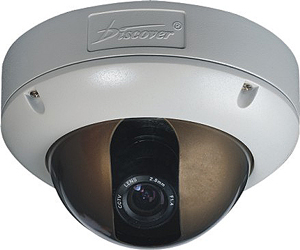 DIS-9301IP Megapixel High Resolution Network Camera incorporating latest H.264 Main Profile @ Level 4.1 compression algorithms. For the same picture quality, in comparison with standard MPEG4 bit rates, DIS-9301IP megapixel camera bit rate is 50% lower. Equipped with Progressive Scan 5-Mega Pixel CMOS, smooth reproduction of images with moving subjects. Real time dual streaming of H.264 720P, recording is compatible with standard decoder. Built-in WEB Server, supports WEB browsing and management. For large scale integration, use DISCOVER Central Management Software (CMS) DIS-M2000.
PoE (Power over Ethernet) feature as option. Easy operation, easy installation, unlimited possibilities with standard IP infrastructure!
DIS-9301IP is ideal for banks, office buildings, shopping malls, airport, train stations, harbour, schools and most cctv surveillance applications.

| | |
| --- | --- |
| | MPEG4 H.264 video compression technology |
| | High Resolution Progressive Scan 1/2.5-Inch 5-Mega Pixel CMOS |
| | Broadcast picture quality, maximum 720TVL, minimum illumination 0.8 Lux |
| | 720P(1280 x 720/30fps) real time dual streaming |
| | True ISO H.264 Main Profile @ Level 4.1 dual bit rates |
| | RJ45 Port 10M/100M |
| | PoE(IEEE802.3af) PoE (Power over Ethernet (Optional) |
| | Supports 720P, D1, VGA, and CIF-resolution |
| | Supports FTP recording server |
| | Supports RTSP protocol |
| | Supports 720P+CIF dual bit rates, browsing live and recording independently |
| | Built-in WEB Server, supports WEB format browsing and management |
| | Motion-detection and motion trigger recording |
| | Supports Digital Watermark, for easy authentication |
| | Supports PPPoE, DDNS(Dynamic Domain Name) |
| | Supports UPnP protocol |
| | Large scale integration with Central Management Software (CMS) DIS-M2000 |